RIVA FreeFlow Exuast Installed $189.95
Sunday, February 11th, 2007
CAUTION this Modification can VOID the manufactures warrantee.
Now that I have had a chance to break in the motor and obtain the base line for comparisons, Ill start with the Free Flow Exhaust from Riva. Retail price for the modification is $189.95 but you can get a good deal at Riva.
At first it seems like a lot to do but it starts real simple. Once the seat base is off you have a good amount of space to work. Do watch your for-arms on the screw heads.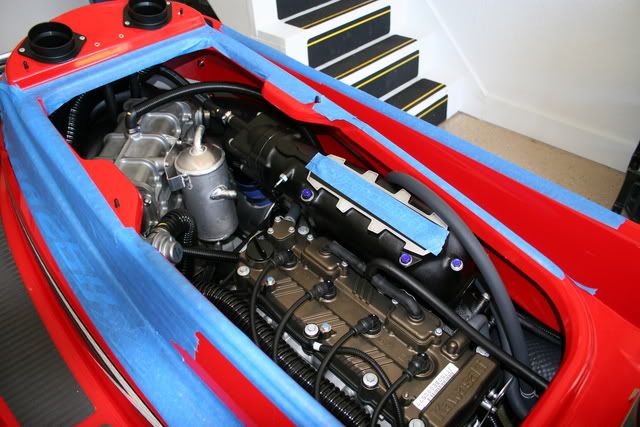 My First step was to protect my boat from myself. This painter's tape helps protect from dropping tools and the rubbing from air hose but simple to peel off.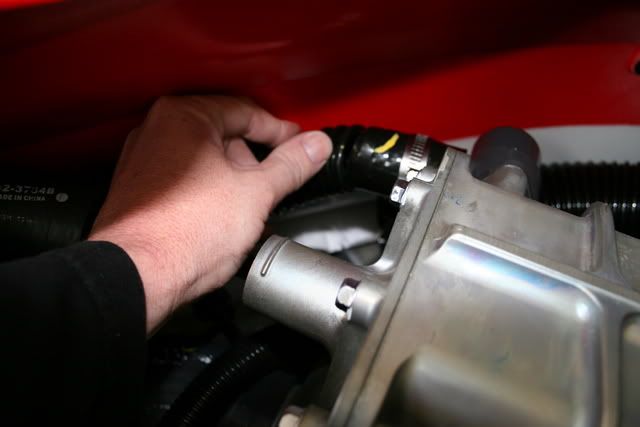 First to come out was the vapor can. Then several water lines. All of them were easy but for the one on the front bottom of Intercooler. After some bitching I figured out that it's easier to get to if you unbolt the intercooler and shift it forward then tilt it back.
CAUTION when removing the bypass valve and over boost valve.
Be extremely careful when trying to take the hose off it or the plastic hosing will tear. See Photo. I opted to just remove the entire Valve from the intercooler after mine had ripped. Not too much of a deal since the Free Flow Intake will most likely not need these toobs. Im possitive the mini K&N filter will replace it. If Riva dont then I will. Why? These toobs route the hot air from the intercooler back into the air box making the intercooler work harder to cool this hot air that was heated even more by the S/C. "That was a SECRET tip"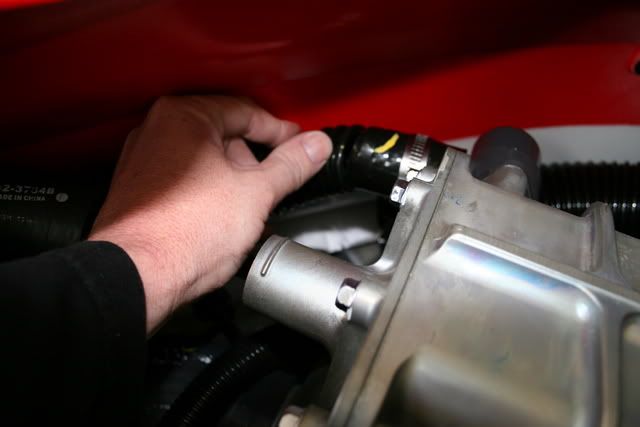 Donft do as I did and try to be the guy that wont ask for directions. Follow the Riva instructions closely.
http://69.28.79.48/Instructions/rk16090.pdf
You will have a bit of trouble in the rear part of pipe getting the clamp tightened down to your cut exhaust outlet. I used a 12 long extension and socket to tighten the coupler but all the rest can be done with a screwdriver.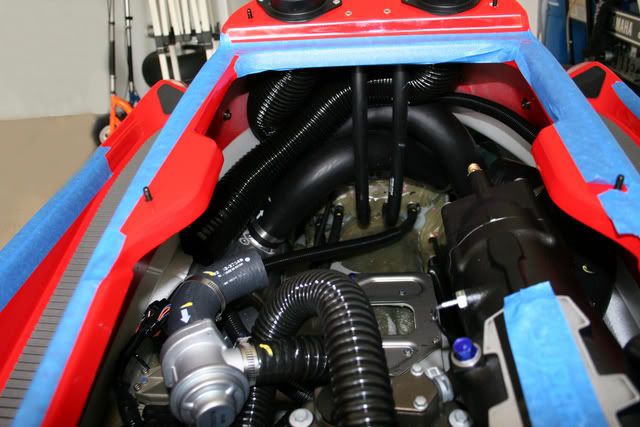 Cutting the exhaust tip can be done easily with a good haxsaw. I was not able to weld a bead or lip around the cut edge as Riva illustration says but the directions does not.
So I did as every thing in the instructions like Riva said but I also took out both breather tubes in the back along with the pulley belt cover. Why? I anticipate a pulley coming in real soon.
This belt cover is a safety feature and removing it is strongly discouraged. With that said, this option allows you to easily monitor the belt condition. This being important because once you begin to add performance parts the load to that belt will increase. Since the belt has been such a pain in the arse on the 15F SC boat, I figured I needed to monitor this one closely.
So I weighed the muffler and it comes in at 13 lbs. Mind you it had water in it as it would while riding. Why do I think this, well I blew out my motor at the boat ramp and once again before starting this modification. So if its there now then it will be in there while riding.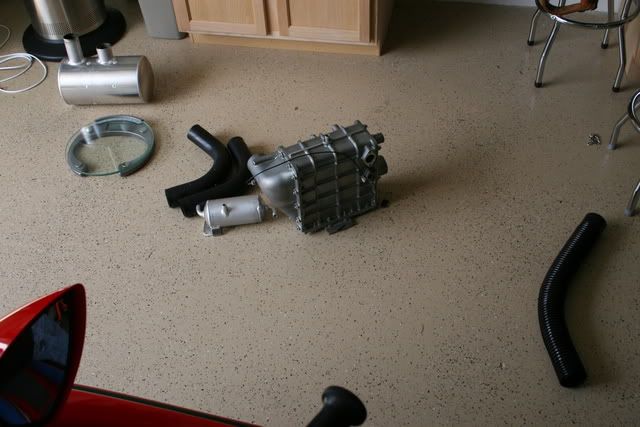 The new modification sounds ok. Has a more throaty quality to it but nothing too alarming just yet. Still its only in a garage and not WOT on the lake.
Total time was about 2.5 hrs. Some of that time was bitching at installing the hook pipe. Getting into the exhaust tip coupler was a pain. It does go in though and it snugs down nicely.
Some of this time was also spent taking photos and doing some exploring. Seems there is alot of tubes running up front to the air box witch has to absolutely come out. Its huge.